Due to the shrinking freelance book review market, my opportunities to publish full-length reviews of science titles in major metropolitan newspapers are now few and far between. Because I do not want to leave that territory completely, I have decided to develop a blog that publishes short reviews of science books that I receive as examination copies.
The net result is coverage of more books, but very few in long form.
I expect that my posts will usually include two or three titles, but I have accumulated six new titles for this first Science Shelf Blog. I will also be posting this on my Science Shelf website, where you can find nearly two hundred science book reviews that I have written over the last 20 years. If you normally buy books or anything else from Amazon.com, I would appreciate your using the Science Shelf portal to make your purchases. That will generate referral fees that will support my efforts to keep my reviews available. I never know who is making the purchases, so I will not be able contact any buyer, not even to say, "Thank you for your support."
I'll list the books in order of release date. I'll begin with one that has particular relevance to where I live in Western Pennsylvania, where hydraulic fracturing ("fracking") to release natural gas from the Marcellus shale layer is transforming our local economy. Fracking produces a lot of waste water that is generally disposed of by injecting it underground. Just across the state line, in Youngstown Ohio, the injected water lubricated underwater faults and induced small earthquakes. Although government regulations on injection sites can mitigate the problem, in some areas, most notably Oklahoma where political forces limit government intervention, human-caused earthquakes are becoming a serious issue. That region of the country has become part of what journalist Kathryn Miles writes about in
Quakeland: On the Road to America's Next Devastating Earthquake (Dutton, August 29, 2017).
Human-induced earthquakes pale in comparison to what nature has in store for us. Most readers will be familiar with the seismic risks along the west coast from California to Alaska. Fewer will think of Salt Lake City or Memphis as places where disruptive quakes could occur. The very readable Quakeland is rich with the science and history of America's shifting ground. It's your own fault (pun intended) if you fail to appreciate it.
As the author of a book for young readers called
Understanding Higgs Bosons (Exploring the Subatomic World series, Cavendish Square, 2016), I couldn't resist including
Mass: The Quest to Understand Matter from Greek Atoms to Quantum Fields by noted British science author Jim Baggott (Oxford University Press, September 4, 2017). Baggott brings the same story-telling skills that I describe in my review of his earlier book The Quantum Story to a subject that some might expect to be heavy. It isn't light reading (puns again intended), but it is engaging and edifying.
Although it is not primarily a science book, how could I resist
The Taking of K-129: How the CIA used Howard Hughes to Steal a Russian Sub in the Most Daring Covert Operation in Historyby journalist Josh Dean (Dutton, September 5, 2017)? The author's nose for a good story and careful research, including numerous first-person interviews, produces a true-life thriller about how the CIA developed and launched a plan to steal a sunken Russian nuclear submarine carrying nuclear missiles and codes even as the Soviet government watched.
Also released on September 5, by Norton Publishing, is a new look at the pioneering work of Charles Darwin,
Darwin's Backyard: How Small Experiments Led to a Big Theory by James T. Costa. Readers will discover how Darwin's curiosity carried him from childhood to old age, always asking productive questions and always open to new ways of looking at living organisms and nature. This book caught my attention for two reasons. First, like my children's weather book,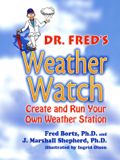 Dr. Fred's Weather Watch: Create and Run Your Own Weather Station (with Dr. J. Marshall Shepherd, McGraw-Hill, 2000, revised edition by Starwalk Kids Media, 2014), it includes do-it-yourself projects. Second, I recently had an opportunity to revise and update another author's previous biography of Darwin to produce
Charles Darwin and the Theory of Evolution by Natural Selection (Revolutionary Discoveries of Scientific Pioneers series, Rosen, 2014).
A very different examination of animal behavior is Gregory Berns's
What It's Like to be a Dog: And Other Adventures in Animal Neuroscience (Basic Books, September 5, 2017). Looking inside of a living, alert animal's brain is not easy, but inspired by the dogs trained to jump out of helicopters during the capture of Osama bin Laden, Berns realized that "man's best friend" could be trained to go into an MRI scanner. That is only the beginning of his exploration, which also includes looking into the minds of sea lions trained to dance, dolphins using their sonar senses, and a reconstruction of the brain of the Tasmanian tiger to explain why it disappeared.
The final book on our list is by renowned mathematics writer Ian Stewart.
Significant Figures: The Lives and Work of Great Mathematicians (Basic Books, September 12, 2017). In a series of 25 chronological chapters profiling mathematicians and their work from Aristotle to the current century, "Significant Figures," writes Stewart, "investigates the almost mythical process that brings new mathematics into being. Mathematics doesn't arise in a vacuum: it's crated by people. Among them are some with astonishing originality and clarity of mind, the people we associate with great breakthroughs–the pioneers, the trailblazers, the significant figures." Readers who know Stewart's work will eagerly engage with this title.
I'll close this long blog entry with one request. If you think continuing the Science Shelf blog is a good idea, please share this post on social media and, if possible, tag me (Fred Bortz) on Facebook and Twitter. Writing it is mainly a labor of love of science books, but it only makes sense to write if I have an engaged audience. The tags will help me judge how successful I have been in building my readership.