As readers of this blog may have figured out, I like to discuss political issues related to science and technology. Although I am personally a bit to the left of the American center, my ideology, if I have one, is that evidence trumps ideology every time. Perhaps the best description, given my willingness to state my views firmly on issues of social and political importance, is that I blog from the radical center.
From that perspective, I can see how biases on both sides of an issue shape people's assessments of technologies like nuclear power in the wake of events like the triple meltdown at Japan's Fukushima Daiichi nuclear power plant in March 2011. Reviews and discussions of my latest book for young readers,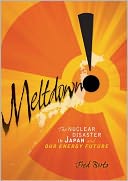 Meltdown! The Nuclear Disaster in Japan and Our Energy Future, have shown me the extent of those biases and how subtle they can be. I'll get to them after telling you more about the book.
I begin Meltdown! by describing the Great Tohoku Earthquake and Tsunami and the subsequent reactor failures in considerable detail. I want my readers to understand the failures technologically. But I also want them to recognize that stronger regulations and government policies would probably have prevented the disaster.
Next I compare Fukushima to previous meltdowns at Three Mile Island and Chernobyl in terms of both engineering issues and of human lives lost or disrupted. That leads my readers to this key question: "Why would any government take the risk of using nuclear power?"
The answer is that the world is facing a potentially much greater risk from global warming. Finding a way to an energy future with less fossil fuel is difficult enough with nuclear power in the mix. Will it be possible in the future for renewable energy sources to replace coal, oil, AND nuclear, too?
That critical open question won't be resolved in the short run. The answer will depend on future technological developments. So I close my book with a discussion of the benefits and limitations of current "green" technologies. My final paragraphs remind my readers that they will be the next generation of engineers, entrepreneurs and political leaders, and it will be up to them to determine the future role of well-regulated nuclear power plants.
"The decisions you will face as a voter will be complex, difficult, and very important for your country and government," I write. "But if governments and citizens act wisely, then the world will have the energy it needs. And the nuclear industry will never again see another disaster like Fukushima, no matter how many reactors it builds."
Is that a pro-nuclear statement? It depends how much weight a reader puts on that little word "if" and the bigger word "wisely." It certainly leaves the door open for nuclear energy, but it also assumes strict regulations that will affect the economic viability of nuclear energy.
I knew that closing would leave the book open to criticism from both sides of the debate. And now that the book has appeared, I am discovering a lot about how people are responding to the Fukushima disaster one year later. Some of the responses I'm about to describe came from audiences at public appearances and others came from reviewers*.
[*As an occasional science book reviewer myself, I want to assure any reviewers who may be reading this that I appreciate the care you have taken in your reading and assessment. Even when I disagree with specific points–and I am about to do so–I value your opinion and especially appreciate that you have recommended the book in the context of other literature. As I write in the Meltdown author's note, "Just as I did not rely on only one source in writing this book, readers should go beyond this book to understand the events of the Great Tohoku Earthquake and tsunami and the meltdowns at Fukushima Daiichi." I want my readers to learn to think critically about all their sources of information, including my own work.]
My first public discussion of the book was at my hometown library, and my audience included people who had spent most of their working lives in the nuclear industry. (I spent three years in the industry in the mid-1970s–pre-Three Mile Island. Despite my management's strong attempts to indoctrinate me as pro-nuclear, I left with a mind as open as when I was hired.) Some of them objected to my title's characterization of the event as a "nuclear disaster" or my use of the term "engineering failure."
Their major argument was that the engineering issues were known, but the failure was that government policy or corporate management did not address the issues. My response was that my book put the engineering failure in the proper context of political and management shortcomings. The central question is not whether the reactors could have been engineered to survive the earthquake and tsunami but rather whether human institutions could enforce sufficient standards so they would have survived.
They also pointed out, quite correctly, that the nuclear contamination from Fukushima has led to no human deaths and will in the final assessment cause serious health issues for only a small number of people. In contrast, many of the firefighters at Chernobyl died within weeks or months from radioactive exposure, and epidemiologists measure the number of subsequent cancer cases and fatalities in Northern Europe in the thousands or tens of thousands.
The real Fukushima disaster, they argued, was caused by the tsunami. I took issue with them on that point. True, the tsunami death toll was about 20,000, but the meltdown was also disastrous in terms of disrupted lives, contaminated agricultural land, and the long-term evacuation of many cities and towns. The disaster is ongoing in that respect.
From the other side, some reviewers indicated that they would have preferred a more urgent tone and a more detailed description of the damage that radiation can cause. To me, that reflects a much more subtle bias than the pro-nuclear attendees had. Immediately after the meltdowns, the news coverage was indeed filled with urgency. One well-known author and professor even described it as "Chernobyl on steroids" in his role as a television expert.
Such reporting no doubt left an impression on many viewers. If they weren't antinuclear before the news coverage, they were afterwards. For Meltdown!, I choose an less urgent, more factual approach that, I'm pleased to say, was the same approach adopted by Miles O'Brien in a remarkable PBS Frontline documentary called "Nuclear Aftershocks" about the impact of Fukushima on the nuclear industry.
That subtle bias also could have caused a reviewer to overlook the fact that Meltdown! does indeed describe the harm caused by radiation at both Chernobyl and Fukushima. The difference is that the impact of Chernobyl was primarily on human health, while the impact at Fukushima was primarily disrupted lives.
I can't fault reviewers for subtle biases like that. We all have them. And to the reviewers' credit, they wrote in such a way that (1) their anti-nuclear views were apparent to me and I think to other readers and (2) they still recommended the book.
Could I have asked for more? Sure–a starred review would be nice. But they would have been less than honest to themselves if they had added that little sweet dollop of praise.