On the 46th of 64 pages of my 2012 book for middle grade readers,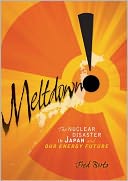 Meltdown! The Nuclear Disaster in Japan and Our Energy Future, I finally ask the question that the earlier chapters are designed to lead up to: "Is nuclear power worth the risk?"
The remainder of the book provides a definite response, but not the definite answer that the readers might be expecting. "The decision is yours. In 2036, when Fukushima is as far in the past as Chernobyl was in 2011, the world's use of electricity will be very different. And so will the laws and regulations about nuclear power." I then note that my readers will be the voters who choose the policies and policy-makers, and warn them, "The decisions you will face as a voter will be complex, difficult, and very important for your country and your government. But if governments and citizens act wisely, then the world will have the energy it needs, [and] people will not have to worry about serious changes in climate."
Besides providing a vivid history of the earthquake, tsunami, and triple meltdown at the Fukushima Daiichi nuclear power facility, the book also includes a look at nuclear technology and other alternatives to fossil fuels for generating electricity. I was careful not to stake out a pro- or anti-nuclear position, but rather I provided enough information for my readers to understand the alternatives. That approach left the door open to a solution that might be called "pro-nuclear environmentalism."
Thus I was particularly pleased to discover a Mother Jones article by Keith Kloor, dated January 15, 2013, entitled "The Pro-Nukes Environmental Movement". Its subtitle poses this question: "After Fukushima, is nuclear energy still the best way to fight climate change?"
The article focuses on the views of leading climate-change scientist James Hansen and renowned science author Bill McKibben, who answer that question with a definite yes. However, Kloor also notes that solar and wind remain important ingredients, concluding, "Maybe we shouldn't fixate on only one possible path to a low-carbon future, but rather accelerate progress along all the avenues (from nuclear and clean coal to solar and efficiency) that will get us to the same place–a planet with an atmosphere that remains hospitable. There is no guarantee any of them will get us there fast enough to stave off catastrophic climate change, but we have no other reasonable choice."
I encourage both the adolescent readers of Meltdown! and the readers of this blog to consider the following:
There are safety concerns with nuclear power, but they can be addressed technologically if we have the political will. But do we have that will? Or will we, like Germany, try to eliminate all nuclear power, thereby increasing coal-burning and losing much of the benefit of its national push toward more renewable sources? Also consider, as Kloor's article does, the impact of the worldwide boom in inexpensive natural gas produced by hydraulic fracturing ("fracking"). Is the economic benefit of that boom so great that it is also slowing the growth of wind, solar, and biomass?
Kloor's thought-provoking article is a great starting point. But I hope you will not stop there. Please follow the questions it opens up, and discuss them with your fellow citizens and political leaders.