It's been several months since I contributed here, but I expect to be back with regular blogs in about a month and shorter posts before then. I have been busy writing my newly released middle-grade book,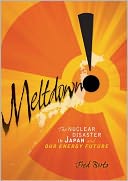 Meltdown! The Nuclear Disaster in Japan and Our Energy Future, which I am pleased to say is a Junior Library Guild Selection. Clicking the cover or the link following it will also lead you to some of the early reviews of the book.
I've also been spending a good bit of time connecting with readers at my Facebook author page. Please check it out and give it a "like" (thumbs up). If you do that, you'll be able get links to my upcoming blog tour for the book in the two week period surrounding the first anniversary of the Fukushima Daiichi meltdowns.
I'll try to remember to post the individual blog tour events here, but I'll certainly be back to blog about science-related news events and post book reviews as I publish those.
Special thanks to Ben Sullivan for prodding me to come back!